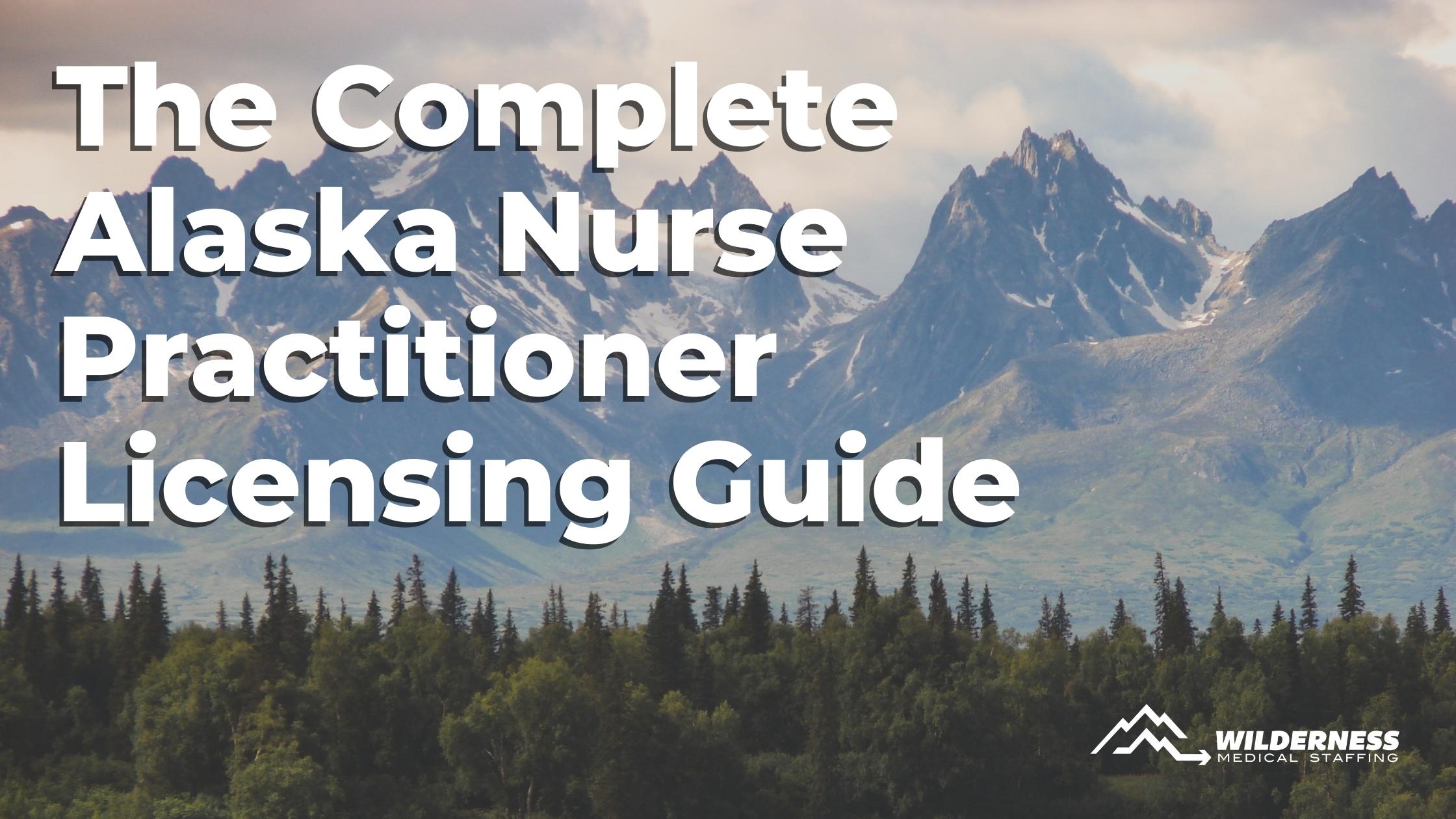 The Complete Alaska Nurse Practitioner License Guide
Wilderness Medical Staffing is proud to staff more healthcare providers in rural areas of Alaska than any other healthcare staffing agency. We started our company by staffing healthcare providers in Alaska and we encourage our locum tenens contracted providers to obtain their Alaska licensure so you can experience what it's like to have an Alaskan adventure while practicing meaningful medicine in this beautiful state. Learn how to apply with our Complete Alaska Nurse Practitioner License Guide.
Introduction to The Alaska Nurse Practitioner License Guide
This is a licensing guide for nurse practitioners interested in becoming licensed in the state of Alaska for the first time. If that's you, thank you for reading our blog article! If you haven't already done so, please email us at [email protected] or call us at 509-215-1700 to reach the recruiting department and let us know you are interested in Alaska licensure. Our knowledgeable team will happily aid you in the process of becoming licensed.
The task of applying for APRN licensure in Alaska is daunting for most people, but don't lose hope before you get started! Anyone can eat an elephant by taking one bite at a time. The task of becoming licensed in Alaska is truly a collection of simple tasks and forms; the only difficulty is in persevering through to the end.
The First Step: Prepare Your Documents
Before you jump into applying for licensure, we suggest you spend a little time gathering the below list of documents and information. The process will be much easier if you already have everything you'll need before sitting down to complete the application materials.
Ink or digital fingerprints taken on an original FD-258 fingerprint card. (Digital fingerprinting is less likely to be rejected for a miss-roll.)
Copies of each state license you already possess.
Copies of your DEA and National Board certification for reference.
All CME certificates from the past 5 years.
Contact information for three references, peer-level or higher. Must have worked alongside you within the last 2 years.
Contact info for the National Board you are certified through, and the transcripts department of the university you graduated from.
A mug or glass of something delicious.
We'd also recommend keeping easily accessible, digital files of all the above information (excluding the drink, of course). If you're able to access them on your phone, even better! When a file is newly updated, replace the old one. This can help with licensing, credentialing, and helping you apply to positions because your files will be accessible at a moment's notice.
Apply for your RN license
Follow this link to sign up for your MyAlaska account and begin the online RN application process. You will want to apply for both your RN and APRN licensure online (as opposed to the print application). This makes the process faster, simpler, and easier for your licensing examiner to update you on what's still needed.
Included in your RN application are the only fingerprints that will be required. If you want some direction on how to get those turned in, check out this document on the Alaska State Board of Nursing (BON) website. We suggest you have your fingerprints taken digitally because ink fingerprints will sometimes be rejected for a mis-roll or smudge. Keep in mind, that whether your fingerprints are taken with ink or scanned, they will need to be printed onto an official fingerprint card.
Your temporary RN license will be approved once your application is received, fees are paid, fingerprints are received, and they confirm your licensure in another state. This usually takes 4-6 weeks. Your permanent license should be granted within a month of your temporary license being granted.
Apply for your APRN license
Once you've completed your RN license application, stay logged into your MyAlaska account and start an application for your APRN license. You will need to complete another Notary Signature Page and upload that notarized document to your MyAlaska account. You will need the signature page notarized. You can usually get free notary services from your bank or accountant. If you don't have access to those options, you can find a reasonably priced notary service in most localities with a quick Google search.
References and Employment Verification
In your RN license application, you had to fill out a page for the Verification of Nursing Employment portion. For your APRN, you will have to fill out a References page. Even though these documents may be sent to the same contact at your current/previous place of work, they are different and will both have to be completed. Keep this in mind as you send documents to your employer to complete. They will complete the form and send it directly to the Alaska BON.
Prescriptive Authority
If you are applying for an Alaska nurse practitioner license in hopes of taking locums assignments with WMS, you will certainly want to apply for full prescriptive authority (Controlled Substances and Legend Drugs). You will also have to apply for the PDMP (Prescription Drug Monitoring Program), which can be done for free online. To be granted prescriptive authority, you will need to have an active Drug Enforcement Administration (DEA) license. If you do not yet have a DEA, please let your recruiter know as soon as possible.
Checklist to Know You've Completed All Items
If you fill out the applications online, you will get a checklist in your MyAlaska account that explains what they're still pending once it's all submitted. For that reason, we suggest bookmarking the MyAlaska website and checking often for updates. Just so you know now, below is a list of all fees and documents you will have submitted once you've completed every step of both the RN and APRN license applications:
RN and APRN Application forms completed and uploaded to your MyAlaska account
Fees paid (should total $775.00)
Notarized signature page
Fingerprints priority mailed to the state
Employment verification request sent to your employer
References page sent to your references
Official transcripts requested from your university
National Board certificate requested from your certifying body
Verification of RN state licensure sent to the appropriate states
I've Submitted Everything, Now What?
Let your recruiter know as soon as you complete your application materials and submit them! We will first congratulate you, then set a reminder to check in with you later. The best way to keep your nursing applications moving is to establish contact with your licensing examiner. WMS will send you an "Authorization to Discuss Application" form to e-sign that establishes us as a 3rd party with who you can contact the Board of Nursing on your behalf. If you choose to sign that form, we will send it to you about a month after the application was submitted so that your licensing examiner may receive it after they've already had the chance to review your application for licensure.
The other thing you can do to keep up to date on your license status is to check your MyAlaska account regularly. In the dashboard, you can pull up all license applications that are in progress. The board keeps that website updated with whatever you still need to complete. In the "comments" section, your licensing examiner will explain how to correctly complete the pieces of your licensing application that are still needed.
Conclusion
For more in-depth instruction on the Alaska nurse practitioner license process and our FAQ page, please visit our Helpful Tools page and download the APRN Licensing Process page. While you're there, you can check out licensing guides for every state we do business in. We hope that this guide helps give some perspective on what is involved with the licensing process for Alaska. Though there are numerous documents required, it's truly a straightforward process that becomes simple once you wrap your mind around it.
We wish you the best and encourage you not to let licensure become a barrier to realizing your dream to work in Alaska!
https://wildernessmedicalstaffing.com/wp-content/uploads/2022/07/alaska_nurse_practitioner_licensing_guide.jpeg
1260
2240
Tanner McCoon
https://wildernessmedicalstaffing.com/wp-content/uploads/2019/12/WMS-Logo.png
Tanner McCoon
2022-07-22 13:13:27
2022-07-22 13:14:08
The Complete Alaska Nurse Practitioner License Guide